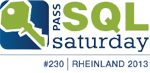 Am vergangenen Samstag fand der zweite deutsche SQL Saturday an der Hochschule Bonn-Rhein-Sieg in Sankt Augustin statt.
Georg Urban (Microsoft Deutschland GmbH) und ich stellten an dieser kostenfreien Community-Veranstaltung die Themen "Windows Azure HDInsight" und "SQL Server Parallel Data Warehouse" vor.
Die zugehörigen Slides, sowie weiterführende Links, habe ich in diesem Post zusammengestellt…
Introduction to Microsoft Big Data – Part I

In dieser Session stellten wir anhand eines praktischen Szenarios mit Twitter-Daten vor, wie konkrete Aufgabenstellungen mit HDInsight in der Praxis gelöst werden können:
Grundlagen von HDInsight für Windows Server und Windows Azure
Mit Windows Azure HDInsight arbeiten
MapReduce-Jobs mit Javascript und .NET Code implementieren
Slides

SlideShare: SQLSaturday #230 – Introduction to Microsoft Big Data (Part 1)
Introduction to Microsoft Big Data – Part II

Im zweiten Teil unserer Microsoft Big Data Session ging es darum, wie Big Data Informationen über "klassisches" SQL zugänglich gemacht werden kann und wie sich mit der neuen PolyBase-Engine unstrukturierte Hadoop-Daten mit relationalen Data Warehouse-Daten verknüpfen lassen.
In der Hadoop-Welt wird der SQL-Zugriff über die Komponente Hive ermöglicht.
Über den Microsoft Hive ODBC-Konnektor können die üblichen BI-Tools, wie PowerPivot, diesen Zugriff direkt nutzen.
Die PolyBase-Engine schließlich wird ein Bestandteil des SQL Server 2012 Parallel Data Warehouse werden und erlaubt einem transparenten SQL-Zugriff, egal, wo sich die Daten befinden.
Slides

SlideShare: SQLSaturday #230 – Introduction to Microsoft Big Data (Part 2)
---

---